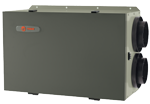 How it works:

1. Multi-Position Mounting
Trane FreshEffects™ can be mounted in conditioned or unconditioned spaces, in virtually any position.
2. High Efficiency Crossflow Energy
Transfer Core
Efficiently transfers heat and moisture to precondition fresh outdoor air for enhanced indoor comfort. Provides up to 84% apparent sensible effectiveness and 59% total recovery efficiency.
3. Slide-Out Filter
A durable 1" polyester filter that's easily accessed for cleaning and Maintenance.
4. Duct Collars
Insulated flex or insulated metal duct can be quickly attached to duct collars.
5. High-Performance Fan Motor
Permanently lubricated to minimize maintenance and extend the motor's life.
6. Percent Timer Control
Meets desired minimum ventilation needs. Ships with unit as a standard feature.
Innovative Passive Defrost System
No recirculation dampers or electric heat required to ventilation in virtually any climate.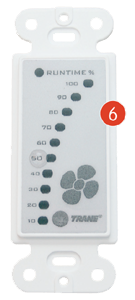 Ventilator Product Offering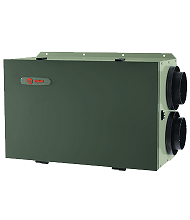 FreshEffectsTM Energy Recovery Ventilator
View Brochure
Model Family: ERV-EERV
Airflow: Three sizes to fit all homes up to 4,500 sq. ft
Sound Level: Quiet operation
Warranty: 10-year Registered Limited Warranty on internal functional parts upon registration
Manufacturer's Stated Benefits:
Static plate energy transfer core means efficient transfer of heat and moisture
High performance, permanently lubricated ball-bearing motor
Slide-out filter for easy cleaning
Percent timer control
Passive defrost-condensate drain not required
Multi-position mounting
Heavy gauge, powder-painted steel cabinet
Closed cell foam gasketing for insulation integrity